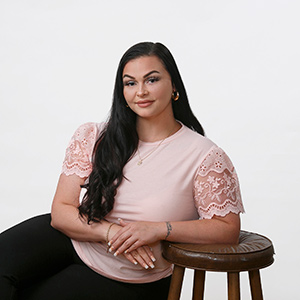 Kailey "Kay" – Lead Administrator
Associates Degree in Health Science:
John Tyler Community College
Dental Radiation Certification:
Virginia Commonwealth University
Dental Assisting Certificate:
Chesterfield Technical Center for Adult Continuing Education
Kailey is our lead administrative coordinator from Slidell, Louisiana. Kailey Moved to Virginia when she was 10 years old and planted her roots firmly. After graduating from Clover Hill High School in 2012, she started pursuing dentistry in 2015 by obtaining a certificate from Chesterfield Technical Center for their dental assisting program while she was eight months pregnant. With her newly acquired skills from being a new mother, her heart led her to pediatric dentistry. After becoming proficient in her dental knowledge, she then advanced to a dual practice that serviced both orthodontics and general dentistry patients. Kailey, now with more than seven years of experience, has settled with a firm foundation in administration in adult dentistry.
Kailey has learned to become highly organized, professional and comfortable talking to patients about all aspects of dentistry. She cultivates and fosters a positive and productive culture in the office. Kailey is a strategic problem solver who enjoys creating opportunities using creative thinking that influences the onsite work experience with critical thinking to streamline and scale operations.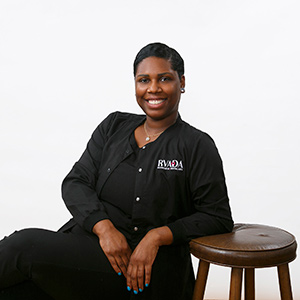 Tierra – Dental Assistant
Dental Assisting & Dental Radiation Certification:
Fortis College
Tierra has been in the dental field for over nine years. She worked at a pediatric practice for four years then in general dentistry. She loves all of the different ways Dr. Hart helps her patients with their facial pain and migraines. The laser is her favorite piece of equipment to use since it can help people so easily and quickly.
Washington, DC, was home until last year when she moved to Richmond. She is enjoying all of Richmond's restaurants — especially Cajun seafood boils. Leo, her kitten, loves to play with her — especially at 2:30 in the morning! Reading and listening to various types of music occupy her free time.